Indigenous Student Graduation Ceremony
Indigenous Student Graduation Ceremony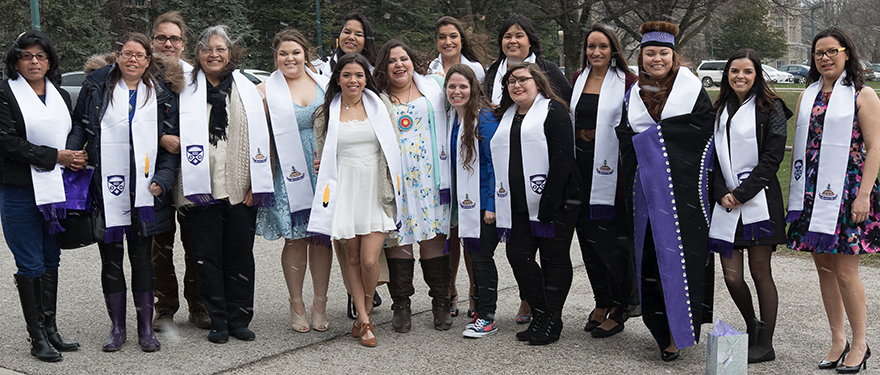 Indigenous Student Graduation Ceremony Spring 2023
Western's Indigenous Student Centre is proud to celebrate our graduating Indigenous students this year on March 31, 2023. Register now!
This year's graduation ceremony will include:
- Eagle Flight Singers drum group 

- Elder Myrna Kicknosway sharing opening words 

- Words of welcome from the Office of Indigenous Initiatives

- Master of Ceremony, Biindigay Giizhik

- Indigenous Alumni keynote speakers: Riley Kennedy, Summer Bressette, Ethan Thomas.

- Presentation of the Dr. Valio Markkanen Indigenous Award of Excellence Recipients.

- Each graduate will receive a gift and an Indigenous stole to wear during Western convocation.

- A sacred fire will be available for graduates to offer their tobacco if they choose and to smudge if they choose. 

- The session will be recorded for friends and family to watch at a later date.

- A photo booth will be provided for graduates to receive professional photos at a later date.

- Refreshments and take-away lunch for graduates and their guests.
*If you graduated in late 2022 or will graduate later 2023, you are welcome to attend this year's graduation ceremony!
If you have more questions about the Indigenous Graduation ceremony, please contact the graduation committee at isc.graduation@uwo.ca
Western's Indigenous Student Graduation Ceremony takes place each year in early April or late March.
All Indigenous students registered at Western or one of our Affiliated University College's (Brescia, Huron, or King's) are welcome to participate. Families are encouraged to attend and support their graduates.
During the ceremony we honour and celebrate our Indigenous student graduates' accomplishments. Graduates are gifted with a Western Indigenous Student Centre stole (white to acknowledge the completion of an undergraduate degree, silver for a master's degree and gold for a doctorate degree). For students, the stoles are a visual symbol of pride in their Indigenous heritage and can also be worn during Western Convocation ceremonies in February, June, or October.