Who Are We?
Indigenous Student Centre (ISC), a part of the Office of Indigenous Initiatives at Western University, is committed to supporting Indigenous students in reaching their highest potential through a culturally-responsive space, programs, and services that honour Indigenous cultures and languages, foster Indigenous presence and inclusion, and increase Indigenous access, engage Indigenous communities, and facilitate transition, retention, graduation and advancement of Indigenous students at Western. ISC staff members provide assistance through services and counselling by drop-in and appointment. Specialized resources focusing on Indigenous issues in areas concerning academic, cultural and social needs are available; including career and employment opportunities and training/workshops. IS also offers study space, quiet areas, gathering space, a computer lab, printing services, and kitchen facilities; with after hours access for registered students. To register for the ISC please fill out our user agreement form.
Vision
Indigenous students are nourishing their Learning Spirits, actively engaging in the Western community through Indigenous Knowledge exchanges, fostering lifelong learning, and shaping leaders of tomorrow.
Purpose
Inspire Indigenous students to realize their full potential through a culturally responsive space, services, and advocacy that encourage wholistic and strength-based approaches to learning.
Goals
Increase Indigenous presence and inclusion across the University;
Increase Indigenous outreach, access, and engage Indigenous communities;
Increase Indigenous student transition, retention, graduation and advancement.
Wampum Model and Guiding Principles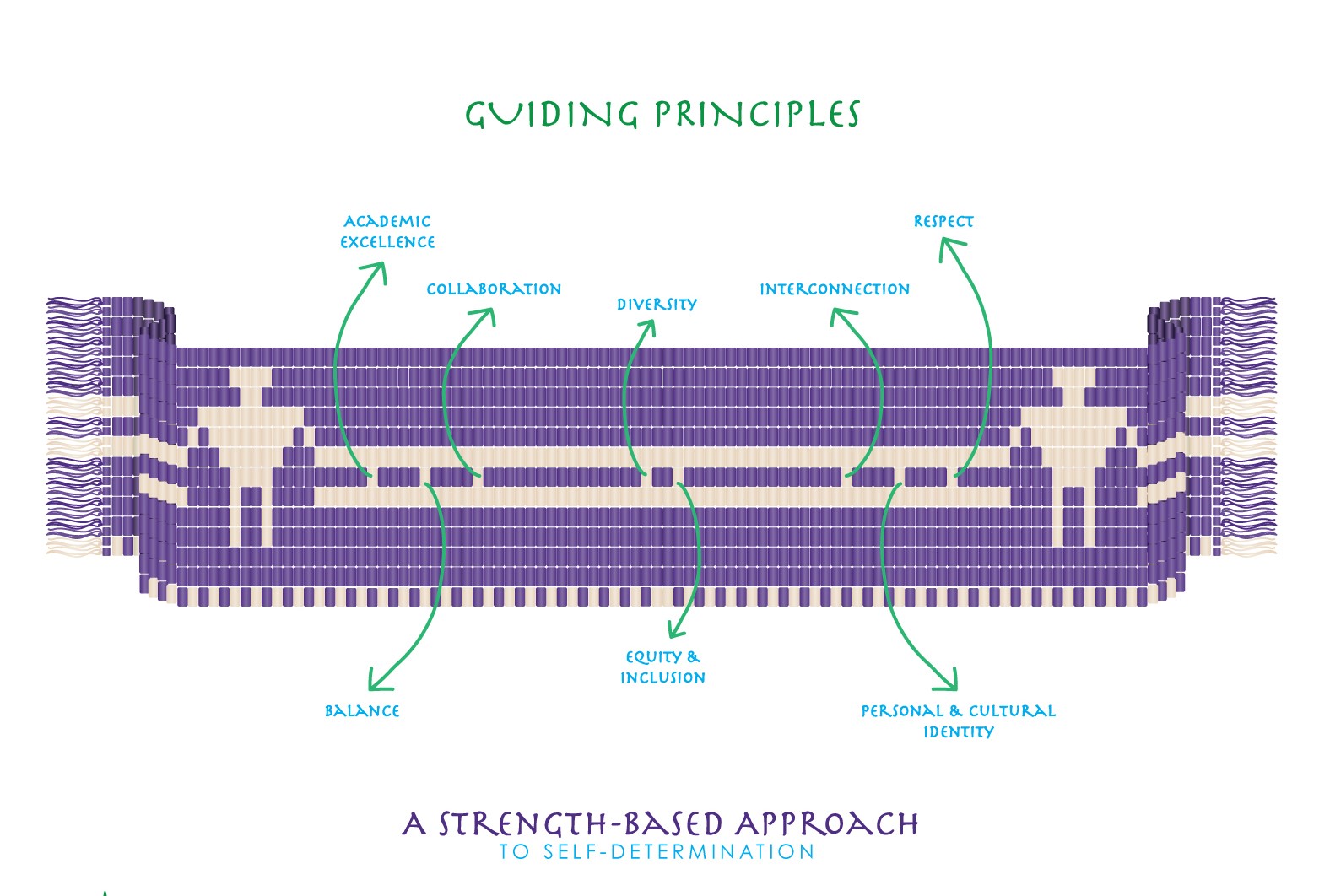 Background on the Wampum
The inspiration for the Indigenous Student Centre (ISC) Wampum Belt design embedded within the Indigenous Student Centre graphic design, and service delivery model arose from Indigenous students who were tasked to design a graphic element as part of a combined work-study position and coursework through the First Nations Studies program. Through the creative and consultative process, the students were compelled to revitalize the longstanding practice of creating and using a Wampum agreement as a way to govern inter-relationships in the Indigenous Student Centre at Western University.
What is a Wampum?
Since time immemorial, Wampum Belts have been used by diverse Indigenous groups across Turtle Island. Wampum Belts are traditionally made of quahog shells carefully woven together through intricate designs and beads that symbolically represent shared values and understandings between two or more parties; ranging from the simplest agreement between two people to much larger more complicated agreements between nations.
Through research, engagements with Indigenous Elders, students, faculty, and staff, the Indigenous Student Centre has revised its Vision, Mission, Mandate, and Guiding Principles incorporating our own Wampum agreement, which is a commitment from the Indigenous Student Centre to support Indigenous students through a strength-based approach to self-determination. This philosophical approach of working together with students toward their academic goals is symbolically exemplified in our Wampum design and model, and the Belt's eight beads which stand for our guiding principles/values.
About the Creators
Lori Nicholas and Jason George are alumni of Western University, during their time here they shared their idea that was brought to life through our Wampum. Lori is Haudenosaunee from Oneida Nation of the Thames, and Jason is Bodéwadmi from Stony Point (Aazhoodena). They are loving parents to two beautiful daughters, and both very active in the local Indigenous community at Western University. We are forever grateful for this amazing contribution.