Future Students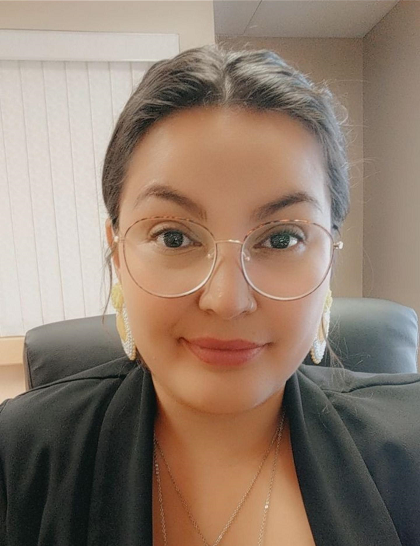 Boozhoo, Biisawaan-Ginii ndizhinikaaz, Anishnaabe kwe niin daaw, mzhiki ndodem. Hello! My name is Kylie and I am Ojibwe/Potawatomi/Metis/Cree from the Kettle and Stony Point First nation. I graduated from Western University with a Major in English Lanuage and Literature and a minor in Indigenous Studies. I have always been passionate about encouraging Indigenous peoples to continue their education journey into post-secondary as I have experience first hand the benefit that it has had on my life an Indigenous woman.The opportunities that Western's Indigenous Student Centre provide falls in line with one of the key values I hold dear to my hear: I want to see Indigenous people suceeed. To any prospective students, I am here to help you achieve your goals. Miigwech! Email me at kbresse@wuo.ca for more information on Western! 
---
What can we help you with?
Kylie, our Manager of Indigenous Admissions and Enrollment can help you in-person at virtual events, 1:1 Zoom Meetings, or by phone.
Information on Undergraduate, Professional Programs, Graduate Studies and Continuing Studies

There are lots of options available to you at Western! Set up an appointment with us to learn more about the options available to you at Western and what admissions requirements you will need.

Learning about Pathways to University

There is no one way to get to university. Whether you are coming out of high school, college or coming back to school after a break, there is a pathway into university!

Navigating the Admissions Process

How do I apply? What information will I need? What cost is there? Should I self-identify as Indigenous on my application?
Aboriginal Post-Secondary Information Program
Every year, Paul, our Indigenous Student Recruitment Coordinator, travels from September to November with the Aboriginal Post-Secondary Information Program (APSIP) group. APSIP are a group of Indigenous recruiters from colleges, Indigenous Education Institutes and universities who share information about our schools with prospective students like you! Follow @westernu_indigenous and @apsip.tour on Instagram to see when we are in your area! 
For more information about APSIP contact Paul Porter at pporter@uwo.ca
---
Outreach
When not traveling with APSIP, we are often at conferences, career fairs and other community events. If you see us at an event, don't hesitate to stop by and say hi! Do you want to have us attend your event? Email us an invitation at is.staff@uwo.ca
Campus Tours
If you are interested in coming to campus and touring Western University, we can take you on a tour of our campus community, including our Indigenous Student Centre. For more information see our Campus Tours page!
How to contact us?
Phone: 519-661-4095
Email: indigenous.admissions@uwo.ca
Location: Indigenous Student Centre, Room 2100, Western Student Services Building, Western University
Find out more about