Ashley Kewayosh Samuel (she/her)
Student Opportunities Coordinator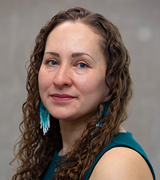 Waywayni-Boozhoo, I am an Anishinabe kwe from the beautiful Bkejwanong Unceded Territory. I grew up there surrounded by water and extended family.
I was once a very young new student at Western. I know what it's like to feel isolated, to struggle and to not ask for help. I want a better story for students in the 2020's.
For the past 13+ years I have been supporting Western students in their university journey. I do my best to ensure that students feel welcome, connected and find what they need. I hope to see you soon!