Indigenous Learning bundles
Maatookiiying gaa-miinigoowiziying (Sharing Our Gifts)
Maatookiiying gaa-miinigoowiziying project is a digital repository of Indigenous curriculum resources available for use by Western University instructors across disciplines. The digital resources also referred to as "online learning bundles" focus on key Indigenous topics relevant to academic learning. The project recognizes the importance of placing Indigenous Peoples and worldviews at the forefront of teaching and learning about Indigenous knowledges in order to foster "ethical spaces of engagement" (Ermine, 2007) where Indigenous and Western ways of knowing can be brought into dialogue with each other in the classroom. 

Each bundle is developed by "Indigenous lead collaborators" - such as faculty members, students and/or community partners, and is equivalent to three hours of teaching time. Western instructors will be invited to register to access bundles to embed into their courses, and be supported through an in-person orientation training session in Summer 2022.
They will also be given opportunities to partake in relationship-centered communities of practice held throughout the academic year.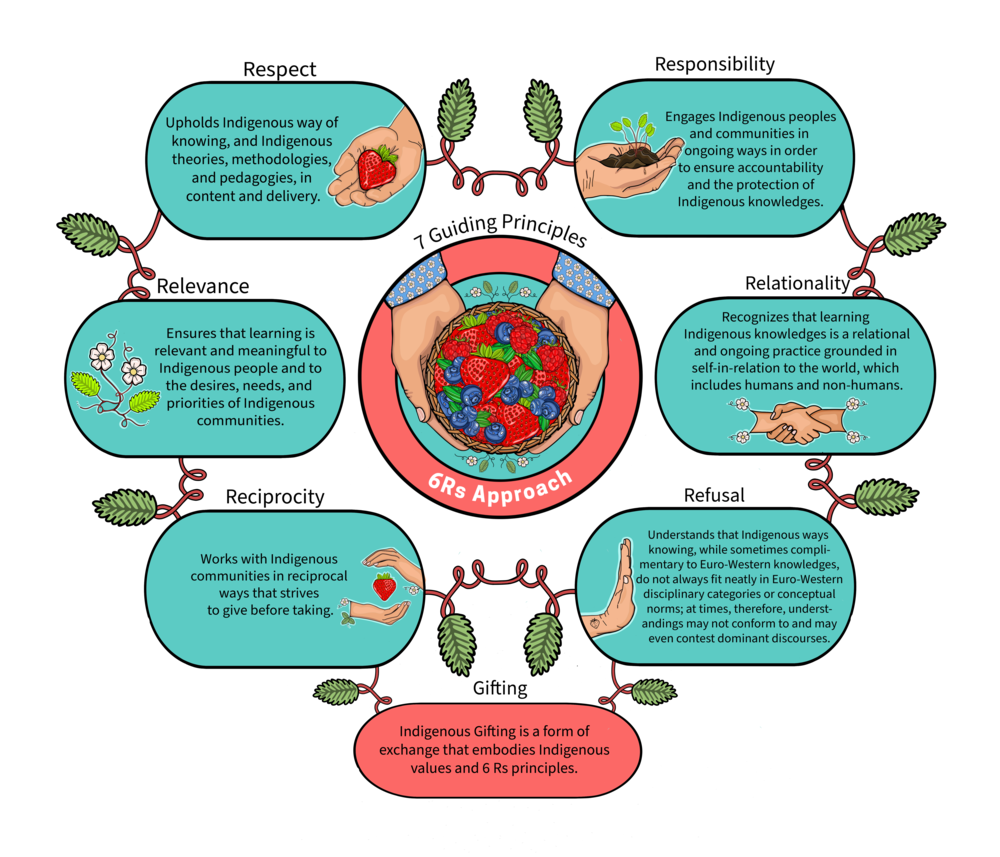 Indigenous Learning bundles framework (Brunette-Debassige 2021)
This model is inspired by Verna Kirkness and Ray Barnhardt's 4Rs to First Nations Education, and Rochelle Johnston, Deborah McGregor and Jean Paul Restoule's the Other Rs of Indigenous Research.
illustrated by Urban Iskwe  
There are many different types of bundles in Indigenous societies including personal healing bundles, sacred ceremonial bundles, and community bundles. While this project draws inspiration from the concept of an Indigenous bundle, this type of bundle is distinct and for academic learning purposes.  The Indigenous Learning Bundles are a grouping of online teaching resources geared toward all students studying in the academic learning environment. Each learning bundle centers on an Indigenous topic or theme (e.g., Indigenous women or Indigenous leadership) and strives to privilege Indigenous conceptions, theories, ways of knowing, and epistemologies. Each bundle is geared toward Western instructors; however, the content within the video presentations are intended for undergraduate learners studying across disciplines.   
Each Indigenous Online Learning Bundle consist of:  
a list of learning outcomes on the Indigenous topic or theme;

 

a 40-minute presentation or series of shorter vignettes addressing the topic or theme; presentations will be developed and delivered by the Indigenous Lead Collaborator and may take various forms including video lectures, PowerPoint presentations, and/or video/audio clips;

 

a 30-minute conversational visit with an Indigenous Elder, Indigenous Knowledge Holder, or Indigenous specialist in the topic area;

 

a list of recommended teaching prompts for instructors and students to take up presentations more deeply;

 

a sample list of classroom and online instructional strategies relevant to the topic;

 

a list of academic readings upon which instructors can draw to deepen student learning at the undergraduate and graduate levels;

 

a list of recommended assignments, assessments, and other relevant resources.
Every year, several online learning bundles are created by a number of different Indigenous lead collaborators. The project is launching the first six bundles in June 2022, and will have new bundles available in Winter 2023.
Preparation
We recognize that increasing instructor's capacities to respectfully include Indigenous perspectives and knowledges in their classrooms includes preparation and ongoing learning supports. With this in mind, our project requires that all participating instructors complete an Orientation to Indigenous Knowledges  bundle (1 hour in length). Which an Owl link will be shared via email after signing up.
In addition, we encourage Western and Affiliate instructors to explore the following resources prior to engaging with the bundles:
Community of Practice
Participating instructors will further be invited to engage in a community of practice. A community of practice (CoP) is a group of people who share common interests in a topic,  and who intentionally come together to fulfill shared goals. Our community of practice will be guided by an Indigenous relational approach to learning. Our intention is to bring educators together in person at least twice per year to learn from Indigenous peoples, and each other, about how to ethically include Indigenous knowledges and perspectives in university teaching and learning. While participation in CoPs are optional, it is highly encouraged. Your participation will help us to strengthen the program in the future. All participating instructors will automatically be included on bundles list serve and invited to annual gatherings.
Community of Practice dates:
Friday, October 7, 9:30 a.m. - 12:30 p.m. Register by September 30, 2022. 
Friday, January 20, 9:30 a.m. - 12:30 p.m. Register by January 13, 2022.
Friday, November 25, 9:30 a.m. - 12:30 p.m. Registration by November 19, 2022.
Register for both or one session here. Please join us regardless of whether you were able to use a bundle in your course by those dates! 
Indigenous Curriculum & Pedagogy Advisor support
The Office of Indigenous Initiatives is an active partner in this project. OII's Indigenous Curriculum and Pedagogy Advisor is available to support instructors in embedding bundles into their courses. The Advisor is available by appointment by contacting: indigenousbundles@uwo.ca
Q - Who can access and use bundles?

Western instructors start the process by signing up here. The Indigenous Learning Bundles are digitally archived and housed on Western's Owl platform. Once instructors sign up, they will be given access to preview video links and instructor guides. If an instructor determines that a particular bundle aligns with their course(s), they can work with our team to import the bundle into their existing or new OWL course site(s) (if applicable) or embed sections of the content into their course syllabus or other platforms to share with students.
Q - How do instructors access and preview bundles?
There are different parts of a bundle. The primary part of each bundle is a video presentation (or a series of shorter video presentations) which are intended to be used as is. Each bundle will further include an instructor guide to support instructors in their use of the bundle, including resources (e.g. readings, instructional strategies and helpful resources).
Q-Do instructors have to use the entire bundle as is?
A-There are different parts of a bundle. The primary part is the video presentation or a series of shorter video presentation which are not recommended to be parceled out. The instructor guide on the other hand offers many different options for instructors to choose from (e.g. readings, instructional strategies and helpful resources).
Q- How do bundles align with Western degree outcomes?
A-While every Indigenous Learning Bundle has its own 3-4 learning outcomes, all of the bundles align with Western's degree outcomes.
Q- How does the Indigenous Learning Bundles project respond to Western's Strategic Plan?
A-The Indigenous Learning Bundles project responds directly to the Truth and Reconciliation Calls to Action (TRC, 2015), the Indigenous Strategic Plan (ISP, 2016), and most recent Strategic Plan (2021) at Western.
Six Learning Bundles have been created and were launched in August of 2022.
Read the Year One Report from the Indigenous Teaching Fellow leading the bundles project, Dr. Candace Brunette-Debassige.
 For more information please contact  indigenousbundles@uwo.ca or  sign up  here.