Dr. Nicole Redvers
Denı́nu Kų́ę́ First Nation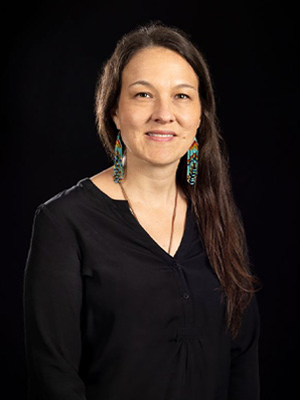 Associate Professor, Western Research Chair, Director-Indigenous Planetary Health
Phone: 519-661-2111 ext. 86673
Email: nredvers@uwo.ca
Credentials: ND, MPH, DPhilc
Pronouns: she, her, hers
Dr. Nicole Redvers, ND, MPH, is a member of the Denı́nu Kų́ę́ First Nation (Northwest Territories), and is an Associate Professor, Western Research Chair, and Director of Indigenous Planetary Health at the Schulich School of Medicine & Dentistry. Dr. Redvers has had previous appointments in both the Department of Family & Community Medicine and the Department of Indigenous Health at the University of North Dakota, where she helped co-develop the first Indigenous Health PhD degree program in North America. She has been actively involved at regional, national, and international levels promoting the inclusion of Indigenous perspectives in both human and planetary health research and practice.
Dr. Redvers sits on the Canada Research Coordinating Committees' Indigenous Leadership Circle in Research and the National Collaborating Centre for Indigenous Health Advisory Committee (NCCIH-AC); is a commissioner on the Lancet Commission on Arctic Health, as well as the Lancet Commission on Prevention of Viral Spillover; is on the steering committee for the Planetary Health Alliance at John Hopkins; and co-chairs the Association of Faculties of Medicine of Canada Planetary Health Committee. Her scholarly work engages a breadth of projects attempting to bridge the gap between Indigenous and Western ways of knowing as it pertains to individual, community, and planetary health. Dr. Redvers is the author of the trade paperback book, "The Science of the Sacred: Bridging Global Indigenous Medicine Systems and Modern Scientific Principles"
Research Interests
Indigenous health
Planetary health
Education for sustainable healthcare
Indigenous knowledge translation and exchange
Indigenous research methodologies
Education
DPhil Evidence-based Healthcare: Nuffield Department of Primary Care Health Sciences/Department of Continuing, University of Oxford. Part-time professional development degree for working professionals-2024

Master of Public Health: The Dartmouth Institute | For Health Policy & Clinical Practice, Dartmouth College- 2020

Doctor of Naturopathic Medicine, Canadian College of Naturopathic Medicine, 2010

Bachelor of Science, University of Lethbridge, 2004
Awards
Selected finalist for the Falling Walls Science Breakthroughs of the Year 2022 in Social Sciences and Humanities - 2022
2021 Association for the Advancement of Sustainability in Higher Education (AASHE) Sustainability Research Award – 2021
Holcim Awards for Sustainable Construction Silver Award Winner-2021 (Indigenous Wellness Center)
Delta Omega Honorary Society in Public Health- Elected into the Delta Iota chapter – 2020
Dartmouth Institute for Health Policy and Clinical Practice- 2018 Merit Scholar.

 

Arctic Inspiration Prize (AIP) 1-million-dollar Grant Laureate – 2018-2020
Leadership Excellence in Health Care Award, Northwest Territories Medical Association (NWTMA) – 2017
Publications
For a full list of publications, click here
Supervision
Dr. Redvers supervises doctoral and masters students in Health & Rehabilitation Sciences (HRS) in the area of Indigenous health promotion with a focus on Indigenous and decolonial methodologies.
Courses Taught
MPH 9008B, Indigenous Health, Schulich School of Medicine & Dentistry, Western University