Statements
To our Western community,
Friday, September 30, marks the second National Day for Truth and Reconciliation (NDTR) across Canada.
This day came about in direct response to the Truth and Reconciliation Commission of Canada (TRC), whose Calls to Action included the recommendation of a federal statutory holiday to recognize the damaged relationship between Indigenous Peoples and Canadian society. Western acknowledges the complexity of this relationship and the long legacy of trauma it inflicted upon Indigenous Peoples, most notably as a result of the Residential School system.
As one of Canada's leading post-secondary institutions, Western has a responsibility to help address past injustices and advance opportunities for healing and reconciliation. Through our Office of Indigenous Initiatives (OII), we support and amplify Indigenous voices and Indigenous presence on campus and strengthen relationships with Indigenous Nations and organizations in London and the surrounding area. We also strive to make Indigenous students, faculty, and staff feel welcome and safe at Western by celebrating Indigenous ways of knowing and being and by applying the academic resources of our institution to the critical task of revitalizing Indigenous cultures, languages, and traditions. 
Our efforts at an institutional level can only bear their fullest fruit when complemented by action at an individual level. Therefore, we call on all faculty, staff, and students to join us in honouring this important day.
In a small but meaningful way, you can demonstrate your support by wearing an orange shirt on September 30 in recognition of the legacy of Residential Schools and the truth that 'Every Child Matters.' You can also participate in events planned on campus for NDTR and take time to educate yourself and others about the history of Indigenous Peoples of Turtle Island. This engagement can involve everything from reading the TRC report and Calls to Action to speaking with Indigenous people at Western and the surrounding community about the lived experience of being Indigenous in 2022. We urge you to be a part of furthering the work of Western's Indigenous Strategic Plan (2016) to advance reconciliation with Indigenous communities – our commitment in the university's strategic plan, Towards Western at 150.
The Western community shares a deep desire to work towards reconciliation, and this week marks a significant opportunity to do both. For more information about NDTR and to access a schedule of events planned at Western, please visit the OII website.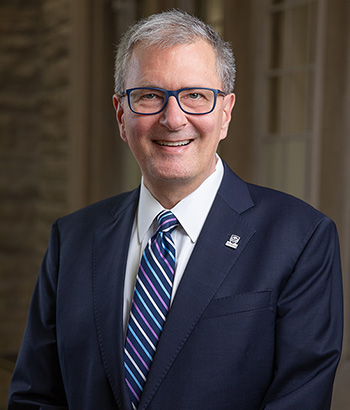 Alan Shepard President & Vice-Chancellor
Christy Bressette Vice-Provost & Associate Vice-President (Indigenous Initiatives)